Apprentices Playing A Key Role In Purdie Dished Ends' Pursuit Of Continued Improvement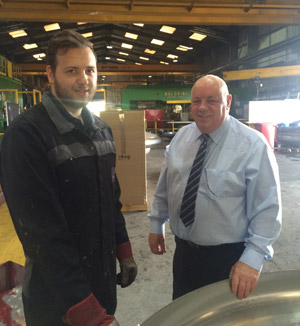 Apprentices at Purdie Dished Ends are playing a key role in helping the business identify ways of working better day to day on the shop floor, having been handed tasks linked to the firm's ongoing continuous improvement programme.
The Bradford-based manufacturing specialist, which is closing in on 100 years in business, has a long track-record of supporting young people into employment, and currently has two apprentices working towards full-time positions.
Connor Moor, 17, and Joe Eggett are each learning the key elements of the factory day to day operations, under the watchful eye of operations manager Peter Rooney.
Mr Rooney is currently half way through overseeing a two-year project to improve efficiencies throughout the business.
And it was under this initiative that second year apprentice Connor was firstly tasked with building a completely new maintenance bay, bringing greater organisation to the management and maintenance of tools and equipment on the shop floor.
Connor has also recently hand-welded and fabricated two stainless steel mobile degreasing baths, which are moved around the factory floor throughout the day to treat dished ends when they have come through either pressing or flanging forming processes.
This project was designed to test Connor's skills in hand welding and dye penetration testing – a key process at the end of production to identify any potential weaknesses in a weld on a dished end, and ensure customers are only delivered perfect products.
"As we are going through an initiative of continuous improvement on the factory floor, it is an ideal time for our apprentices to examine how we work, and try and identify themselves ways in which we can make improvements. Any slight improvement in process is potentially a saving of time and money for the business, so it is a good learning process," said Mr Rooney.
"There is nothing quite like getting involved and doing the job, and that is what Connor and Joe have been doing as part of their learning. You have to give them the chance to try things, perhaps make a few mistakes, and learn."
Clive Anderson, managing director of Purdie Dished Ends, said: "The advantage of bringing a new addition to the team through an apprenticeship is that you get an opportunity to mould someone who really knows the business, how it works, and where it is going.
"All of the senior management team at Purdies were apprentices when they started out. I myself was an apprentice welder, and there is no better place to learn about a business than on the shop floor, seeing how everything comes together day after day.
"Training the next generation of Purdie employees, and hopefully management, is a very important part of what we do here. It has helped the business be a success since 1918, and hopefully will do for many more years to come."