Purdie's Andy Baird completes Manchester Marathon after running final 13 miles with foot injury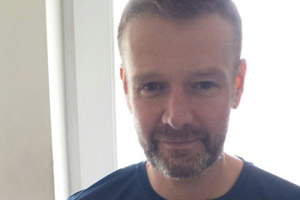 Works manager Andy Baird was left with mixed feelings after completing the Greater Manchester Marathon recently – running the final 13 miles in pain and discomfort after suffering an injury to his foot which caused him to fall sort of his time target.
Andy, 43, had been aiming for a time of under three hours and 15 minutes to gain automatic entry into the 2017 London Marathon as a 'good for age' qualifier – a time he was on course to achieve at the half-way mark of the course.
However, with a large crowd of runners following the qualifying time pace-setter, Andy was unable to see a traffic island which was extruding into the course, causing him to hit the kerb and suffer a painful injury to the front of his foot.
It meant a battle to complete the challenging course, and despite admitting he considered dropping out on a couple of occasions and accepting a 'Did Not Finish', he says the fantastic crowd at the event spurred him on.
"It was tough as I had to run the last 13 miles with the injury, which slowed my pace down from around 4 and half minutes per kilometer to between 6 and 10 minutes, as I was having to put all my body weight onto the one leg," Andy said.
"It is disappointing as I had my sights set on the London Marathon qualifying time, and in a way although I finished, it doesn't really feel like I've run a marathon now because I haven't done the 26 miles at full speed.
"The event was fantastic though, with 12,000 runners, a brilliant atmosphere, bands playing, in great weather and with the crowd giving great support."
As part of Halifax-based running club Stainland Lions, Andy was part of a 14-strong team taking part in the event.
It was his third marathon in the past 12 months, having completed the Chester Marathon and Windermere Marathons in 2015.
Now, he has his sights set on the Snowdonia Marathon in October, a course which will include over 3,000ft of climbing, although he may look to squeeze in one more marathon to aim again for that London Marathon 2017 'Good for Age' qualifying time.
"There's a few more marathons available, so I'll see how I feel. The Snowdonia one is the big challenge now, and for me that won't be about timings, the challenge will be to finish that one as it will be a very tough test," he said.
"I've got about 20 more races, including 10ks, cross-country, and fell running before the end of the year, so I'll put what happened at the weekend down to experience and go again. It's all part and parcel of running.
"I've only been doing running in events since last summer, when I decided to join the running club after the Windermere Marathon. "It's fair to say I caught the running bug after that, and I love every minute of it."
Andy, who is responsible for planning production on the shop floor at Purdie Dished Ends, is also a keen cyclist and is a member of the Purdie 'cycle to work' team.