Summer slowdown? Time to ensure your factory is in the Premier League for performance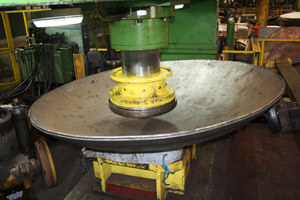 By Clive Anderson, managing director of Purdie Dished Ends, Ltd.
For many firms in the manufacturing industry, the summer months can naturally bring something of a slowdown in business as the holiday season kicks in.
Of course, we'd all love to see our factory floors and operations at full tilt 12 months a year.
However, the reality is that many businesses are affected by decisions on major investments and contracts being placed on hold over the summer months. There is a ripple effect down the supply chain that we all have to be prepared to manage.
Thankfully, close to 100 years in business has ensured that here at Purdie Dished Ends, we are in a strong position.
Our customers come from a wide range of industries and sectors, something which helps us navigate the peaks and troughs of productivity. As one customer cuts demand, others are often increasing theirs.
From storage tanks, pressure vessels, road tankers, food processing operations, chemical plants, nuclear operations, oil refineries and traditional and renewable power generation, our dished ends are distributed across the globe.
That variety of end customer is a major benefit to our business, and one I'd encourage all manufacturers to seek.
Let's not forget, the key to the success of any business in the manufacturing industry is the safety and availability of their production facilities and machinery. A factory floor with a number of machines 'out of service' is not going to enjoy success.
A good operations manager on any factory floor is one who successfully manages to meet customer demand by ensuring his equipment is performing to its best at all times.
Any machine which is not 100 per cent reliable can cause downtime in production, loss of profit, and perhaps even loss of custom should you fail to deliver on time.
Of course, many major businesses, like ourselves, operate 24 hours a day under high pressure. Their machinery and systems are in constant demand. They would cost millions to replace, but much less to maintain.
Perhaps in the week Premier League returned to action, we should all be considering if our factory operation is operating at peak performance?
Over the off-season, football managers have focussed entirely on bringing their players to peak fitness and performance, ready to face a demanding year ahead, knowing that any failing will be exposed, and could prove costly.
So, the question for all with responsibility for running factories at this time of year is surely whether they have used any periods of slowdown in production wisely and taken the opportunity to ensure their facilities are Premier League standard for the year ahead?