Purdie's Paul prepares to step into the boxing ring to raise money for Cancer Research UK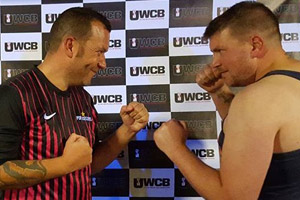 As an experienced machine operative in the Purdie Dished Ends factory, Paul Edmondson is used to working under pressure and with heavy tools at hand.
Now, come this Sunday afternoon, he'll be hoping he has all the tools needed in the boxing ring – and that he can handle a different type of pressure - to come through his first every bout, all in the name of raising money for Cancer Research UK.
Paul (pictured right) will be one of 44 people from the city – including both men and women aged from 15 to in their fifties – stepping into the ring for the first time as part of the Ultra White Collar Boxing event at Bradford City's Valley Parade stadium.
Ultra White Collar Boxing, first established in 2009, provides people with absolutely no boxing background a unique opportunity to experience the sport in a safe and enjoyable environment.
Boxers are required to raise money for Cancer Research UK, and receive eight weeks free training with professional coaches.
Since its launch, it has raised more than £1.8 million for the charity by holding events across the UK.
Fighters are paired up with opponents of a similar height and weight, and weighing in at 17.6 stones, Paul is set for a heavyweight contest with opponent Steven Webster, who he has sparred with on a number of occasions during the two months of preparation.
"I've never done any boxing before this and I have been looking forward to it, but I must admit the nerves are creeping in now," said Paul, 38, who will be roared on by his wife Katy, his parents, more than 30 other family and friends, and his colleagues from Purdie Dished Ends.
"I'm quite confident that I'll do well. I only found out who my opponent was going to be this week, and he has looked a good boxer in sparring, so it should be a good contest.
"I'd describe my style of boxing as aggressive, so I'm going to go out all guns blazing and see if it brings me a victory."
Inspired to take part after seeing a long term family friend diagnosed with cancer, but thankfully come through and be given the all-clear, Paul says it is a great event to be involved with.
"It is raising money for an excellent cause, so I am sure I can cope with three rounds in the ring," he said.
"I've enjoyed my training, I've got fitter and I've lost some weight, so it's been positive all round. I just need a win now."
Clive Anderson, managing director of Purdie Dished Ends, has paid for Paul's work colleagues to attend and cheer him on.
"We're all looking forward to getting behind Paul and seeing if he can put on a knockout show," he said.
"Whatever the result though, we know he'll do Purdie proud as it is a brave thing to do, and for a very good cause. And we'll expect him back in work on Monday…no excuses!"
All participants will wear protective head gear and gloves, and coordinator Tom Digby, of Ultra White Collar Boxing, says he is looking forward to another great fundraising event, with a crowd of around 1,000 expected to attend.
"The atmosphere in the build-up and on the day itself is always phenomenal as it is run very professionally, with staff and professional training," he said.
"Those taking part have been training at Abusins Muay Thai Gym in Bradford and they will all have got to know each very well other over eight weeks.
"They are evenly matched depending on their weight and ability, and come fight night this Sunday, this group will have raised about £5,000, which is fantastic."
To sponsor Paul, visit https://www.justgiving.com/paul-edmondson7
For more information about the event, or to take part in future events, visit www.ultrawhitecollarboxing.co.uk/sign-up