Loss of high-quality, British-produced steel will impact on companies' abilities meet growing export demand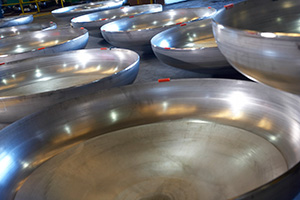 By Clive Anderson, managing director of Purdie Dished Ends Ltd
SIX months have now passed since Britain's steel industry was rocked by the announcement of 1,200 job losses at Tata Steel sites in Scunthorpe and Lanarkshire.
Now, it is reported that a meeting of the Tata Steel board, expected to be held on March 29, could result in the partial or full closure of its Port Talbot plant, a site which currently employs around 3,000 people, and thousands more sub-contractors.
It was initially understood that Tata's Indian board would be presented with a rescue plan at its meeting next week, aimed at turning the plant around over the next two years, supported by a £100m investment.
However, sources have now told sections of the media that such proposals may now be deemed unrealistic, meaning the hoped-for investment may be withdrawn, and another shattering blow could be delivered to the British steel market.
It has been a sorry story all round, with job losses and cuts being blamed on British businesses in the steel industry buying cheap Chinese imports, therefore pushing European prices down and making it impossible for businesses such as Tata to profit.
Watching on from a distance however, it is hard to understand how it has got to this position, and how the steel industry in the UK has not secured more Government support.
The reality is that manufacturers and engineers of high-quality steel products – the quality of which allows British businesses to export across the globe using our world-leading engineering technology and skills – don't buy cheap, second rate steel.
Yes, there may be a mass market out there for cheap metal and steel, for white goods such as fridges which are produced in massive tonnage.
But high-quality, specifically required and skilfully manufactured products which are sought after world-wide, such as the thousands of dished ends produced each year here at Purdies, simply cannot be produced on the cheap.
The fact is, any further reduction in the capacity for high-quality British steel production is a blow to the country's manufacturing and engineering sectors. It is a blow to businesses who engineer world-leading products.
We at Purdie Dished Ends have already felt the pinch to some extent.
As a proud British company, closing in on our 100th year, we pride ourselves on using the finest quality steel. We have to. Our products often end up in nuclear power stations, in oil tankers and other environments where they have to withstand immense heat and pressure and deliver peak performance.
We've already seen the flexibility in the supply chain suffer as a result of what has happened at Tata. It's meant we've had to source product from other European mills, which has impacted on our lead times on some requests for customers.
We haven't waivered on quality, we never will, but whatever happened to British and best?
As a long-established, successful business, it's a hit we'll be able to manage and ride out, but other smaller firms, the likes of which we should be encouraging and supporting to produce in Britain, may not be so strong.
It has been suggested that the Department for Business, Innovation and Skills is likely to provide a loan of around £70 million to £80 million to help a planned takeover of the Scunthorpe site by Greybull Capital – a move which could help save many jobs which it was initially feared would be lost.
It is to be hoped that it the case, although such a lifeline may not be forthcoming at Port Talbot.
The British Steel industry is one to be proud of.
Lose businesses like Tata Steel without a fight, and the ripple is felt way further down the chain, at the industry's very foundations.