Providing opportunities for career progression is helping to strengthen the team at Purdie Dished Ends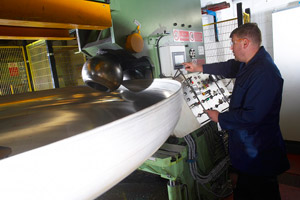 Have you ever stopped to consider what opportunities your business offers to your employees?
Yes, of course you are providing them with employment, which in current times is not always easy to come by, and by that very nature you are also fulfilling an extremely important role within your local economy.
But does your business offer its employees a potential career path in which they can identify a clear goal, and realistic opportunities to progress and climb the ladder?
In every business, the opportunity to progress is vital in keeping staff motivated and working towards continuous improvement.
In industries such as manufacturing and engineering, businesses will always need the people who are truly skilled in jobs which involve rolling up their sleeves and getting their hands dirty. Without them, we wouldn't have successful businesses.
For Purdie Dished Ends, highly-skilled welders, metal spinning and flanging operatives are key to our success, and we will never lose sight of that.
We should also always remember that it is impossible for everyone to end up in the boardroom. Not everybody would want to end up there anyway.
Career progression can mean a slight change in an individual's role. It can be learning a new skill, or being handed new responsibilities within a team.
We have been delighted to see a number of people within our business progressing in recent times. At present we have two young apprentices who have joined the business and have quickly learned the basics of our work and have already proved to be excellent additions.
One in particular has really taken to welding, it is something he enjoys, and is good at, and this something which is already proving very beneficial to our business. It has given us an extra resource in a key area of our work.
Our second apprentice is currently being trained in operating our flanging machines and the processes involved, and his progression will hopefully allow another member of that particular team to move into a role within our maintenance department.
That employee, who has been with us as number of years, has identified such a move as being the next step he would like to take, and not only will it benefit him, but again, it will strengthen our position as a business, as although we have excellent skills in this area, extra resource will ensure we are never exposed at busy times, or even holiday periods.
As we look across all of our departments today, we can see many employees who have progressed and grown into new roles at Purdie Dished Ends, both on the factory floor, and in our management offices.
Having made my way up from a trainee welder myself, I know how important to keep that path open for employees.
If we keep doing that going forward, we can be confident that our business, which will soon be celebrating its centenary year, will succeed for many more years to come.
By Clive Anderson, managing director